Ikebana Chandelier


Located in Fabcafe Hida in Japan, Ikebana Chandelier is an interactive installation that functions as a lighting piece to celebrate Japanese spirit of "Wabi-sabi" through 'Ikebana' and 'Kumiki' (wood joinery). The design aims to give rebirth of traditional Japanese culture by integrating technology in order to create novel experiences for people to learn and play with.




The project started with a week-long immersion in wood joinery, led by experienced craftsmen. Throughout this period, we got to familiarize with various materials and techniques, gaining valuable insights into the local culture and its connection to traditional Japanese practices. Drawing inspiration from renowned artists and architects, Tokujin Yoshioka and Sou Fujimoto, we decided to incorporate a vertical language using commonly available wood sticks.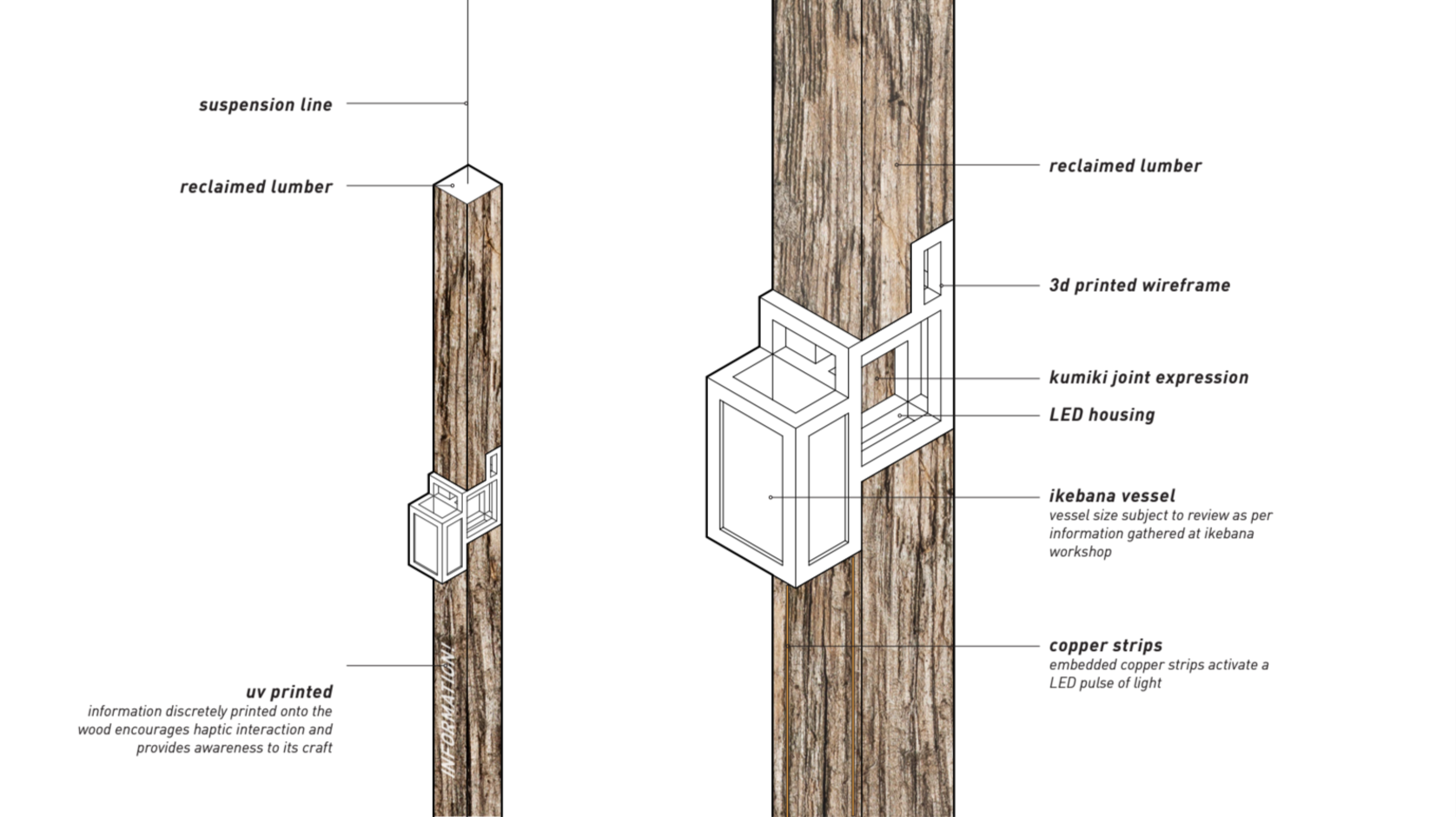 In search for materials, we discovered an abundance of discarded wood sticks at local carpenters' shops. Recognizing the potential for resourcefulness, we repurposed these overlooked resources by highlighting their inherent beauty through strategic cuts. Meanwhile, we designed and fabricated digital joints utilizing 3D printing technology, perfectly complementing the wooden elements.




To enhance both the visual and tactile experience, we incorporated hollow structures into each 3D print, exposing the dynamic textures of the materials and showcasing the intricate joinery designs. This thoughtful approach allows viewers to appreciate the original wood's texture and the tranditional craftsmanship.


---
Project type: Collaboration with Fabcafe Hida and Loftwork Taipei
Team members: Hiroaki Ohba, Cheng Wei Hung, Billy KC Lee and Brandon Bergem
Featured on HIDAKUMA and COLOCAL