Ikebana Chandelier
Located in
Fabcafe Hida
in Japan,
Ikebana Chandelier
is an interactive installation that functions as a lighting piece to celebrate Japanese spirit of "
Wabi-sabi
" through '
Ikebana
' and '
Kumiki
' (wood joinery). The design aims to give rebirth of traditional Japanese culture by integrating technology in order to create novel experiences for people to learn and play with.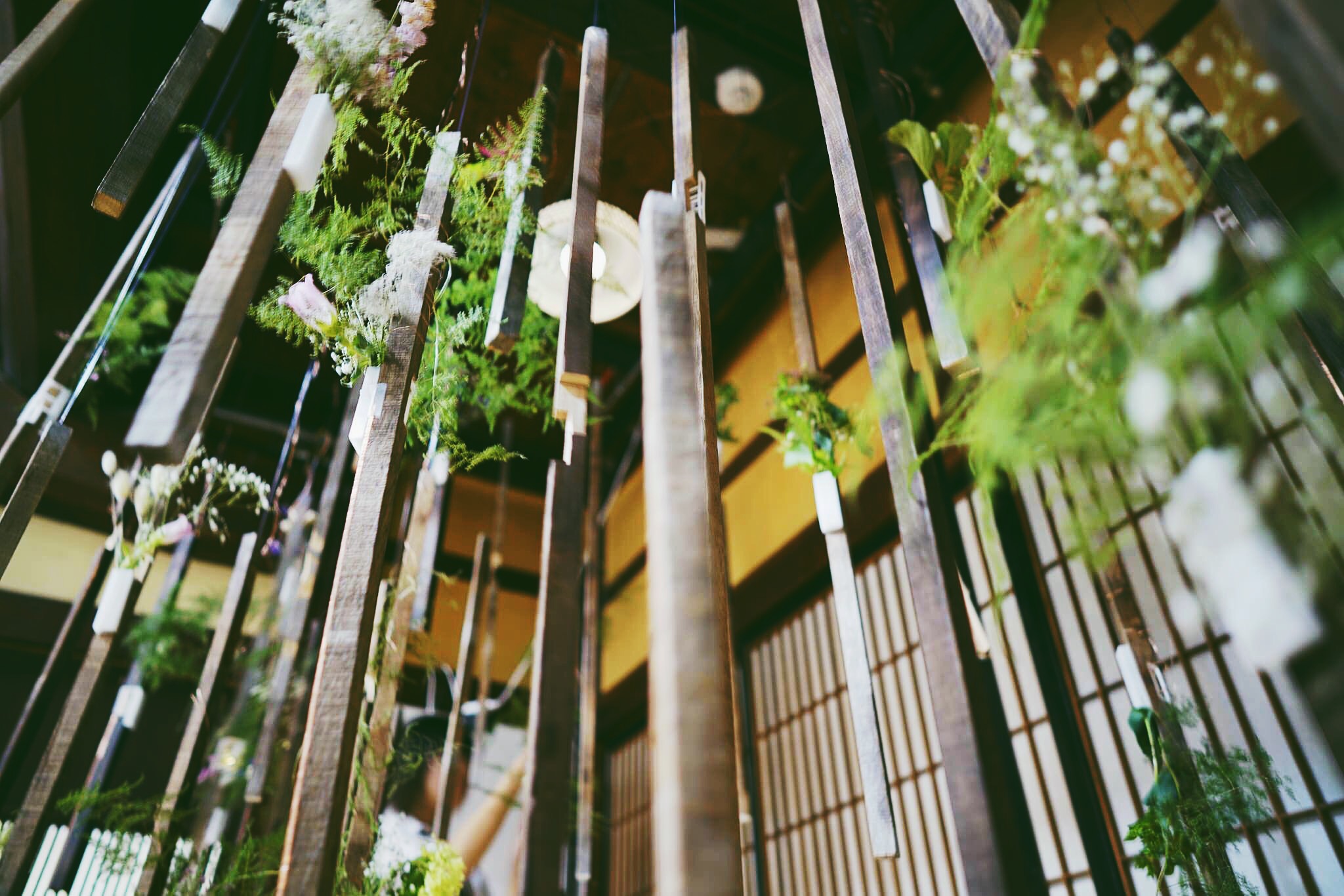 Concept Diagram



Site Analysis

We spend the first week learning wood joinery with professional craftsman. During the process, we got to know different types of material and techniques. Also we had better understanding of people living there and their relationship with traditional Japanese culture. At the same time, we did some researches on precedents and brainstormed many ideas. Finally, inspired by Tokujin Yoshioka's installations and Sou Fujimoto's architectures, we decided to keep the vertical language from wood sticks which were common in use. After visiting several local carpenters's shop for materials hunting, we happened to find that there were many discarded wood sticks left over. Therefore, we recycled them and made cuts to present the beauty of them. Then we designed various digital joints and fabricated through 3D printing to match with them in pairs. ISiten order to expose dynamic textures of materials as well as internal designs of joineries, we make various hollow structures for each 3D print allowing people to see the texture of original wood
Structure Diagram

Meanwhile, considering the site is at the entrance, we integrate Ikebana into the design, which is often used to welcome people in Japanese culture. So that we make 3D prints functioning both as kumiki and vessels for Ikebana, as connections between wood and flowers.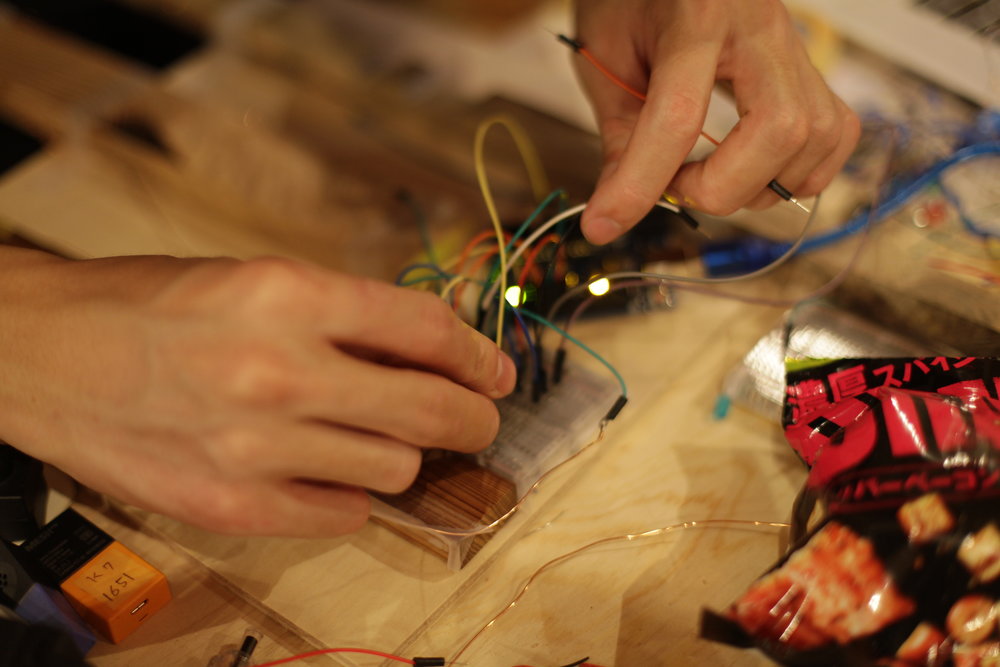 Considering the installation is at the entrance, we want to make "soft response" to welcome people walking in and light up their way at night. Therefore, we installed LED in each of 3D prints and tested with lighting effect. We also made DIY touch sensor using copper tape on the edge of wood sticks. When people approach the installation or touch any wood sticks, the whole installation will be triggered and spread out the light . As people walk away, the light will fade out gradually. The overall atmosphere provides an ideal place for meditation as well. When people sit beneath the installation quietly, the light will randomly blink once a time gently in response to signals of our brainwaves. This interaction design aims to encourage people to inherit craftsmanship and Japanese culture as well as create an unconventional experience to access the traditions.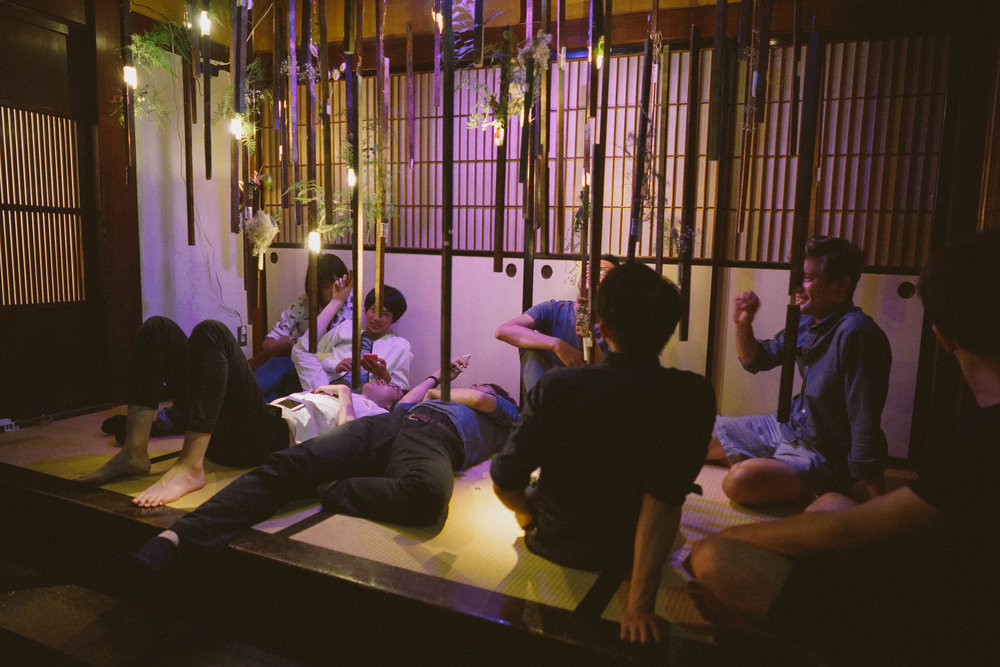 Photo credits: Brandon Bergem and Billy KC Lee


---
Collaboration with Fabcafe Hida and Loftwork Taipei
Team members: Hiroaki Ohba, Cheng Wei Hung, Billy KC Lee and Brandon Bergem
Press Coverage
HIDAKUMA:
https://hidakuma.com/blog/smart-craft-studio-hida-2016-team-3-report/
COLOCAL:
http://colocal.jp/topics/think-japan/gifunext/20160706_76289.html