Project Overview
The bank is undergoing a transformation, moving away from offline legacy systems and into the digital age. Our Chase Mobile app is highly rated, but expansion presents a challenge as we add features & capabilities. Therefore, Chase Mobile App Redesign is initiated for delivering business results and meets customers' evolving expectations.

The overall scope of this project is to re-design the whole app. My role is to lead the design of the home screen, which aims to provide top line status of account balances, actions needed with quick access to core transactions. Considering the complex of home screen, I will focus on the account overview in the following walk through.


---
Design Process



Evaluate & Discover
I started with audit of the current design as well as gathering pain points from both business partners and customers:








Define success matrix
Therefore we came up with our success matrix mainly from scalability, aiming to easily meet customer needs as their relationship with JPMC grows (more accounts) and improve discoverability enabling customers to quickly initiate their primary tasks and expose them to new features and services.



Ideation

Interaction prototyping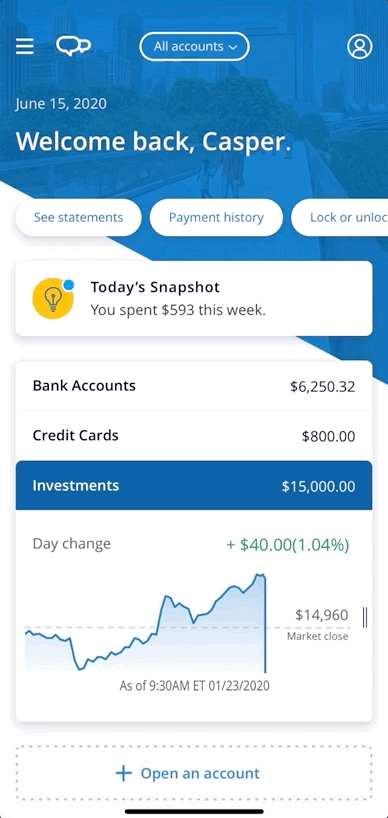 Integrating both business preferences and user testing's feedback, we decided to move forward with the stack (option3) design. And we continued to enhance personalization across the experience as well.


---
Result & Impact


Our new design has fully rolled out to 50 million mobile users by the end of last year and our app has ranked No.1 for customer satisfaction by J.D.Power - an industry-wide benchmark, including 30-points increase from 2019 for range of services, 19-points of increase for clarity of information, 19-points of increase for ease of navigation and 13-points increase for appearance.